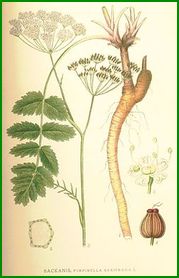 Plant of the dry meadows, pastures and rocky slope growing to 0,50 m of which one uses the root.

Burnet saxifrage is used for its expectorant properties in the treatment of respiratory tracts, pharyngitis, bronchitis, tracheitis.
Also : Asthma, inflammation of urinary tracts, renal calculi.
And in external use : On wounds which badly heal.


Out of infusion : 1 coffee spoon for 1 boiling cup of water, let infuse 10 minutes, 2 cups a day or in gargarism several times a day.

In external use on wounds : Bath with an infusion, 2 soup spoons for 1 liter of boiling water.

Young leaves can also be added in salads.