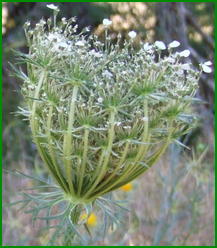 Wild or cultivated plant.

Carrot contains vitamins Bl, B2, B5, B6, vitamin D, vitamin E, protid, carotene, provitamin A. The whole plant is useful :
Root : Diabetes, general tonic, convalescence, weaken, infantile diarrhoea.
Leaves in external use : Pruritus, chilblain.
Seeds : Oliguria, support the secretion of milk, aerophagia, intestinal gases.



Grate carrots and apply a poultice of fresh pulp.

Take each morning juice 3 or 4 carrots.

Eat carrots without peeling the outer part is richer in active ingredients.

To enhance daytime vision, 50g of dried crushed root in 1 liter of water, boil during 15 minutes, let infuse for 30 minutes, two cups a day.