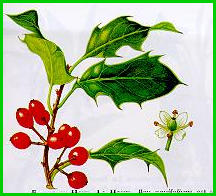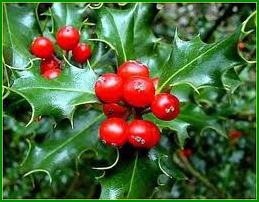 Caution toxic plant in case of overdose
Shrub of underwood with persistent leaves of which one uses leaves and bark.

English holly leaves are tonic and febrifuge, berries are purgative in decoction.
Also : Diarrhoea, bronchitis, rheumatisms.
In external use : Abscess, furoncles.


Infusion : 1 tablespoon of leaves for 1 cup of boiling water, let infuse 10 minutes ; 3 cups per day.

Infusion : 1 handful of bark for 1 liter of boiling water, let macerate 1 night ; 3 cups a day.

Wine for fever; macerate during 1 week 25g of fresh crushed leaves in half a glass of alcohol 60°, then add 1 cup of white wine and let macerate one more week, filter; 6 tablespoons per day.





Ilex aquifolium, holly, common holly, English holly, European holly, or occasionally Christmas holly