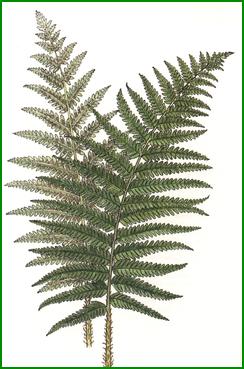 Dangerous in case of overdose.
Common plant of the underwoods of 1 m to 1,40 m of which one uses rhizome and leaves.

Fern is active against intestinal worms (tapeworm, ascaris, oxyures).
Also : Arthrolithiasis, gout.
In external use on wounds.


Infusion : 15 g for one liter of water, to drink in 3 days.

Decoction : 100 g for one liter of water in compress on wounds.





Dryopteris filix-mas, Common Male Fern, Male Fern, Worm Fern L>