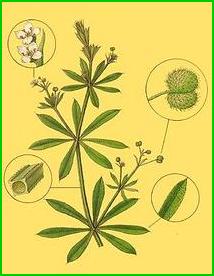 Annual plant of the edge of the forests growing to 0,20 by 1,50 m of which one uses whole.

Very similar to lady's bedstraw (galium verum), hedge bedstraw (galium mollugo). Goosegrass was former prescribed as a diuretic but also against oedemas of lymphatic glands as detoxifying agent. Nowadays prescribed in external use on skin diseases, wounds, furoncles.

Out of infusion : 1 coffeespoon for 1/4 of liter of boiling water.
Cream : Mix some fresh juice with butter and preserve in the fridge.





Cleavers, Galium aparine, goosegrass