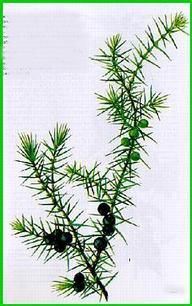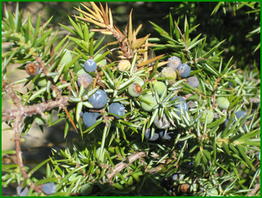 Common shrub of the sunny grounds growing to 5 m of which one uses the branches leaves and fruits.

Juniper disinfect respiratory and urinary tracts. Stems and leaves are diuretic and depurative. Also useful for anorexia, difficult digestion, dyspepsia, arthritism, gout, cystitis, insufficient menstruations. Disadvised for pregnant women.
In external use : Leucorrhea, wounds, disinfectant, rheumatic pains.


One can eat berries, use them in cooking, or in infusion : One spoonful for one cup of boiling water, let infuse during 10 minutes ; 3 cups a day.

While making slowly roast the berries one can disinfects houses.

Let macerate during 15 days, 60 g of crushed berries in 1 liter of white wine, stir up from time to time, filter and sweeten with honey.





Juniperus communis, Common Juniper