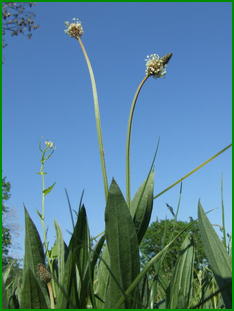 Hardy perennial of the ways from 0,10 to 0,25 m of which one uses whole.

At the time of Pliny the Elder one used it to heal 24 diseases. Plantain stops bleedings and helps cicatrizations. In infusion it is a diuretic, prescribed against gastritis, gastric ulcer, diarrhoea, acute bronchitis and haemorrhages of the urinary tracts.
Also : Hematuria, dysentery, diarrhoeas, tracheitis, laryngitis, uric acid, gout.
In external use : Acne, conjunctivitis, wounds, insect bites, mouthwash.

Infusion : One spoonful of leaves for 1/4 of a liter of boiling water, let infuse 10 minutes ; 4 cups a day.

Cataplasm : Crush some fresh leaves to make some kind of pulp to be applied on the sick part.

Syrup : Crush 4 handfuls of leaves, add some water, 300 g of sugar and 250 g of honey. While stiring, gently heat until consistence of a syrup.

Crush some fresh leaves to be appied on the wounds or insect bites.

lotion for baths of the eyes against conjunctivitis.

One can also add some young leaves of plantain in salads.





Plantago major, broadleaf plantain, greater plantain