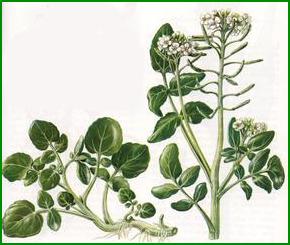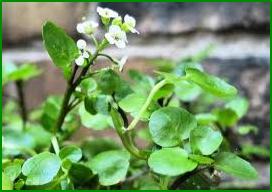 Watery plant which grows in brooks from 0,10 to 0,70 m of which one uses the leaves and stems.

Watercress has many virtues, it contains vitamins and minerals, it is a good tonic.
Also: Anorexia, asthenia, scurvy, diabetes, chronic bronchitis, scalp care, psoriasis, acne.



Cultivated watercress is eaten raw in salads, watercress wild is likely to be infected with liver fluke, a parasite found in livestock manure. If in doubt it should be eaten cooked as a soup.

Officinale watercress juice to activate hair growth.





Watercresses, Nasturtium officinale, N. microphyllum; Rorippa nasturtium-aquaticum, R. microphylla