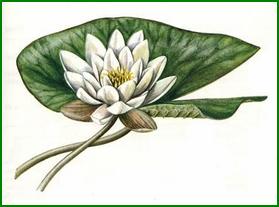 Aquatic plant of the ponds of which one uses flowers and rhizome.

Water lily is used as a sedative to reduce the sexual activity, neurosedatif in case of tetany, sleep disorder.
Decoction of roots regulates intestinal functions.
In external use : Reddenings, wounds, blotches, leucorrea, care of the hair.


Infusion : One spoonful of flowers for one cup.





Nymphaea alba, European White Waterlily, White Lotus, Nenuphar