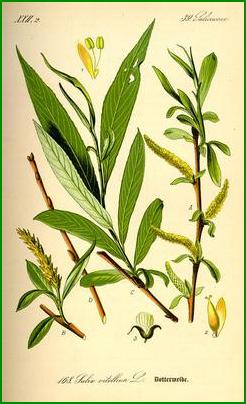 Common tree of the wet banks from 5 to 25 m of which one use bark and leaves.

Willow's bark contains a precursor of the aspirine, it is recommended for insomnia, excitation and influenza fevers.
Also : Dyspetia, rheumatisms
In external use : Callus, wounds, varicose vein ulcers.



Infusion : One spoonful for one boiling cup of water, let infuse 10 minutes ; 3 cup a day.

Compresses and washing with a decoction of 100 g of bark in 1 liter of water, boil during 3 minutes, then let steep during 15 minutes.