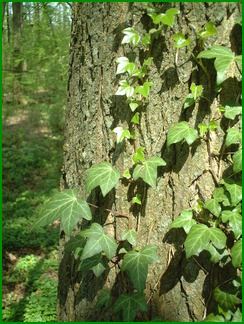 Ivy is toxic to be used only in external use.
Stem climbing on walls and trees of which one uses young leaves.

Out of cataplasm to calm rheumatisms and neuralgias, it is also a great help against cellulitis.
Also : Whooping-cough, tracheitis, varixes, hemorroids.
In external use : Rheumatisms, blood circulation for the legs, sunburns, care of the hair, tooth ache.




Decoction : One handful for one liter of water, boil 10 minutes, in compress against pains of cellulitis or rheumatisms.

Cataplasm of fresh crushed leaves; 3 time a week on cellulitis.




Hedera helix, Common Ivy, English Ivy