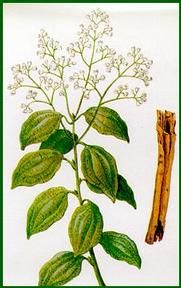 Shrub cultivated in tropical areas of which one uses the bark.

Cinnamon is antiviral and stimulant, it is traditionally used against colds, influenza and digestive disorders.


Infusion : Against colds or the influenza ; 3 cups a day.

Tincture : In case of flatulences 20 drops in a cup of water ; 4 times a day.





Cinnamomum verum, true cinnamon, Ceylon cinnamon, Sri Lanka cinnamon