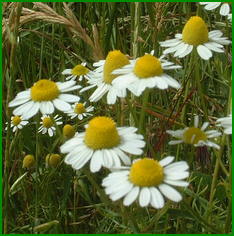 Common plant of the fields and uncultivated places from 0,20 to 0,50 m which one uses the flowerheads.

German camomile has practically the same properties as the roman camomile
Also : Sunstrokes, flu, insufficient menstruation, care of the hair, mounthwash, care of the skin, wounds.



Infusion : 2 spoonfuls for 1/4 of liter of boiling water, let infuse 10 minutes ; 2 to 3 cups per day.

Oil of camomile for sunburns; 25g of dried flowers in 250g of olive oil, gently heat in a bain-marie during 2 hours, filter, preserve in several small bottles.





Matricaria chamomilla, German chamomile, camomile, Chamomilla chamomilla, Chamomilla recutita, Matricaria recutita, Matricaria suaveolens.