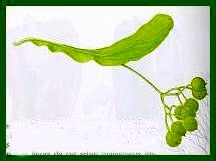 Common large tree.

1) Lime-flower is anti-spasmodic against nervousness, slow digestions, insomnia and diarrhoeas.

1) Lime tree sapwood (part of the stem between the heart and the bark) is well-known for its action on urinary tracts and renal calculi, it helps lazy livers thanks to its strong content of flavono´des, it relieves hepatic migraines and nausea.
Also : Indigestion, diarrhoeas, gout, rheumatism, hepatic migraines.
In external use : Dry skin, ulcers, burns.



Infusion : One tablespoon of flowers for 1 cup of boiling water, let infuse during 10 minutes; 4 cups a day.

Decoction : with sapwood, 1 tablespoon for 1 cup of cold water, boil during 4 minutes then let infuse for 20 minutes.





Tilia cordata, Small-leaved Lime, Small-leaved Linden, Little-leaf Linden