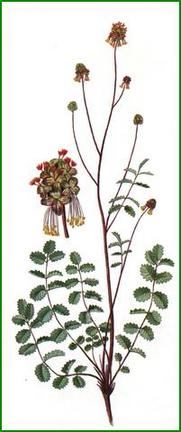 Common hardy perennial of the uncultivated grounds up to 1 700 m growing to 0,80 m of which one uses whole.

Burnet is tonic, reinforces the appetite.
Also : Diarrhoea, supports lactation.
In external use : Haemorrhages, wounds, burns.


Decoction : 50 g for one liter of water, to drink in one day.




Sanguisorba minor, Salad burnet, Garden burnet, Small burnet, burnet